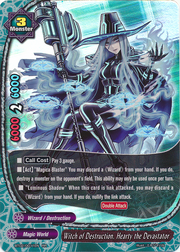 "Hearty"
is a series of 《
Wizard
》 cards with "Hearty" in their card names. They are unique to
Magic World
.
The life and journeys of Hearty the Devastator. Her life is like this.
Size 0: Infant to kid
Size 1: Kid to Teen
Size 2: Teenager to Young Adult
Size 3: Adult
Playstyle
Edit
The Hearty series is based off and to support ``Hearty The Devastator``. The series is based off 2 attributes. "Creation" and  Destruction
The Creation cards are made to team up and support eachother through having high power but little critical power, their abilities revolve around recycling Wizards to make a large hand and to help clear the field with fun tricks.
The Destruction cards are all about destroying your oppoent with raw power and Critical like Hearty herself. It is her path of solitude as she lives a dark life through the steets. Destruction also is about lowering the opponents gauge through attacks.
Both sides of the same coin. The Happy Hearty and The Angry Hearty. Both must be in control to maximize the potential of the deck. 
List of Sets containing "Hearty" cards
Edit
List of "Hearty" cards
Edit
List of "Heaty" Support cards
Edit
Ad blocker interference detected!
Wikia is a free-to-use site that makes money from advertising. We have a modified experience for viewers using ad blockers

Wikia is not accessible if you've made further modifications. Remove the custom ad blocker rule(s) and the page will load as expected.